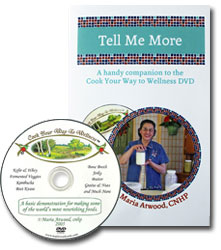 If you are new to fermenting, Nourishing Traditions cookbook, or the the Weston A. Price Foundation™, then this detailed 90 minute DVD and Tell Me More Booklet is for you.
Chapter includes detailed information for making:
Kefir and Whey
Fermented Vegetables
Beet Kvass, Sauerkraut
Kombucha
Bone Broth, Beef Jerky
Homemade Butter
Soaking Grains & Nuts
AND Much More......